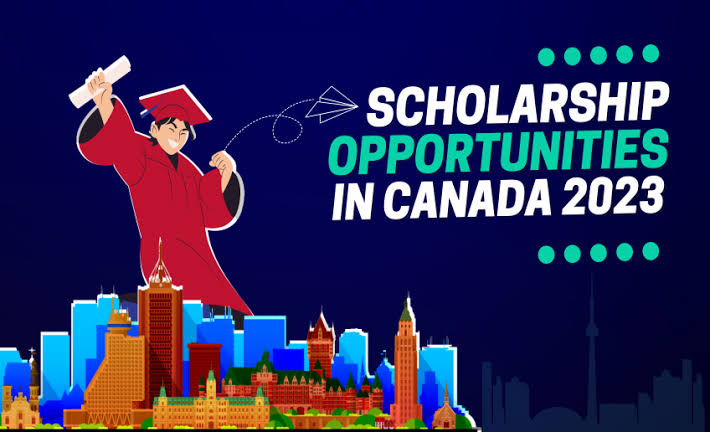 Do you wish to begin your studies in Canada? International students are allowed to apply for a number of scholarships in Canada.
This article will go into depth regarding the scholarships available to international students at Canada's best colleges.
One of the most convenient ways to begin your studies in Canada is to obtain a scholarship that covers your study and living expenses.
Scholarships are typically awarded by Canadian institutions to students who have demonstrated academic excellence.
Nonetheless, your career and volunteer experience have an impact on your prospects of getting a Canadian scholarship.
How can international students obtain undergraduate scholarships?
International students enrolled in undergraduate, master's, doctorate, post-doctoral, or certificate programs in Canada are eligible to apply for Canadian scholarships.
The Canadian government provides international scholarships in almost every academic field.
As a result, students from diverse backgrounds are eligible for this Canada Government scholarship for overseas students.
Fortunately, Canadian institutions offer a variety of scholarships, the most prestigious of which can pay a student's tuition for up to four years.
Some undergraduate scholarships for international students in Canada
The Dalhousie University Scholarship is a fully financed foreign student scholarship.
This scholarship is available for masters and doctoral study. This $30,000 scholarship provides a monthly income, housing costs, a fee waiver, and health insurance.
McGill University Scholarships are full-fee scholarships available to overseas students.
This scholarship is available for students studying for their undergraduate, master's, and doctoral degrees.
This scholarship awards up to $8,500 for students.
The University of Toronto offers an annual scholarship to foreign students from all over the globe, as well as foreign students enrolled in Canadian secondary schools.
The Lester B. Pearson International Scholarship Program recognizes international students who excel in their academics.
The University of Toronto grants scholarships to a total of 37 undergraduate students. For four years, the scholarship will cover incidentals, tuition, and full residential assistance.
Interested students should meet the following requirements:
By June, you must be in your final year of high school or have graduated.
You must begin your course at the University of Toronto in the upcoming academic year, in September.
Université de Montréal Scholarships cover the tuition fees of awardees.
International students studying for undergraduate or postgraduate degrees from all over the world can apply for the scholarship.
Université de Montréal Scholarships gives up to $27,300 per year.
International students enrolled at York University with an exceptional academic record are eligible for four-year degree scholarships.
They can apply for Global Leaders of Tomorrow Scholarships as well as International Entrance Scholarships of Distinction.
International students can apply for two Global Leaders of Tomorrow Awards and two International Entrance Scholarships of Distinction at York University in Ontario, Canada.
These scholarships are renewable for up to three years of a full-time undergraduate program.
To be considered for the major international scholarship, you must meet all of the following requirements:
A foreign student in Canada with a study permit.
Being a York-approved student who applied directly after graduating from high school, within two years after graduation, and with no prior university or college courses.
A letter of recommendation.
Have submitted your application to one of York University's undergraduate degree programs.
Showcase your skill to lead.
The University Canada West Scholarship is a grant for overseas students.
This grant is exclusively available for undergraduate and master's degree courses.
Undergraduates receive up to CAD 20,000 while students studying for their Masters receive CAD 10,000.
 The President's Scholarship for World Leaders at the University of Winnipeg is given to international students who are enrolling for the first time in any of the university's divisions.
This scholarship is intended for students who want to study for a Bachelor's or Master's degree at Winnipeg University. Applicants must take part in activities that show leadership.
The President's Scholarship for World Leaders ranges in value from $3,000 to $5,000.
Candidates must meet the following requirements:
Have a minimum admissions average of 80% or above.
Think of yourself as an overseas student.
Demonstrate great leadership abilities.
Beginning the first year of any program.
By the scholarship deadline, submit a detailed entrance application.
The Douglas College International Student Scholarship is a scholarship for international undergraduate students in Douglas College.
This grant will cover up to CAD 7000 in tuition expenses.
The University of Calgary Foreign Entrance Scholarship is a prestigious award that recognizes outstanding achievements by international students as they begin their undergraduate studies at the University.
Qualifications for the Scholarship include academic proficiency as well as extracurricular achievements.
The $15,000 scholarship is renewable annually second, third, and fourth years of study at the University of Calgary, as long as awardees maintain a 2.60 GPA and above.
International students who wish to apply for this scholarship may select any topic from the Bachelor's degree program at the University of Calgary.
Requirements for this scholarship are:
This grant requires international students to be enrolled full-time in a fall semester undergraduate degree program.
It is most likely a first-year student.
The university's English Language Proficiency standards must also be met.
A minimum GPA of 3.20 is required to be considered for a scholarship.
The University of British Columbia bestows the Karen McKellin International Leader of Tomorrow Award on international students who have excelled in their academics, leadership abilities, participation in student organizations, and community service.
This award is accessible to international undergraduate students. The Karen McKellin International Leader of Tomorrow Award is valued based on your financial need.
To estimate financial needs, subtract the total tuition, fees, and living expenses from the financial contribution you and your family can make each year.
Your funding may be renewed for an additional three years of undergraduate study or until you graduate.
Being a foreign student studying in Canada with a Canadian study permit is one of the requirements for nomination.
Others are:
Meet all UBC entry requirements, including general and degree-specific requirements.
Academic accomplishment in the past.
Demonstrate financial need that would prohibit you from receiving a UBC degree otherwise.
You must have graduated from high school no later than June of the academic year for which you are applying.
Tuition-free scholarships are available for students of the Université de Montréal. International students from all around the world may apply.
These scholarships are offered for undergraduate, master's, and doctoral programs. Scholarships from the Université de Montréal will pay up to $27,300 per year.
Carleton University's largest scholarship prizes are the Chancellor's Scholarship, the Richard Lewar Entrance Scholarship, the Carleton University Scholarship of Excellence, the Carleton University SHAD Scholarship, the Jay Woo and CAA Scholarship.
The first four listed above are worth CAD20,000-30,000, while the others cover four years of tuition.
The following are the general eligibility conditions for these scholarships: Only students who enter Carleton directly from high school or CEGEP will be eligible for a prestige award.
Students who have already attended a post-secondary educational institution are not eligible for these funds.
All prestige scholarships require an entry average of 90% or above.
Each year, the quantity of these overseas scholarships offered vary according to available money.
UBC honors excellent students from across the world through prizes, scholarships, and other types of financial aid totaling more than CAD 10 million per year for foreign undergraduate students.